With TLC, your pets can now be properly cared for in the secure, familiar and comfortable surroundings of their own home where they can follow their customary routine and diet.
No longer will you need to rely on kennels or impose on friends or neighbors to look after your pets in your absence.
While you're away from home, TLC will: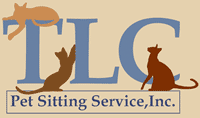 Provide food, water, play time and a brushing during each visit.
Obtain medical treatment in case of illness
Scoop and change litter
Water house plants
Collect newspapers and mail
Provide specified crime deterrent measures
Maintain a "Cat-a-Log" covering each visit
To arrange service, call TLC at least 7 days before your scheduled departure. A free Introductory Visit with you and your pets before your departure will be arranged. During this visit services to be provided will be further detailed and the bonded sitter will be able to acquaint himself or herself with both you and your pets.
FEES
Cats: $18 per visit (for up to 3 cats) + mileage. ($1 each additional cat)

Other pets and lengthy series of visits: negotiable

One Visit Only: $18

Pilling: $3

Injection $3

Walking: $5

15% Winter Surcharge (November 15 - March 15)

No holiday surcharge

Key return fee: $13 + mileage
(Key return by mail: $5)

Mileage: $.30 per mile
PET TAXI SERVICES
(Hit Pet Taxi icon above)
HOMEWATCH SERVICE
(Hit Home Watch icon above)
HOME SITTING SERVICE
(Hit Home Watch icon above)